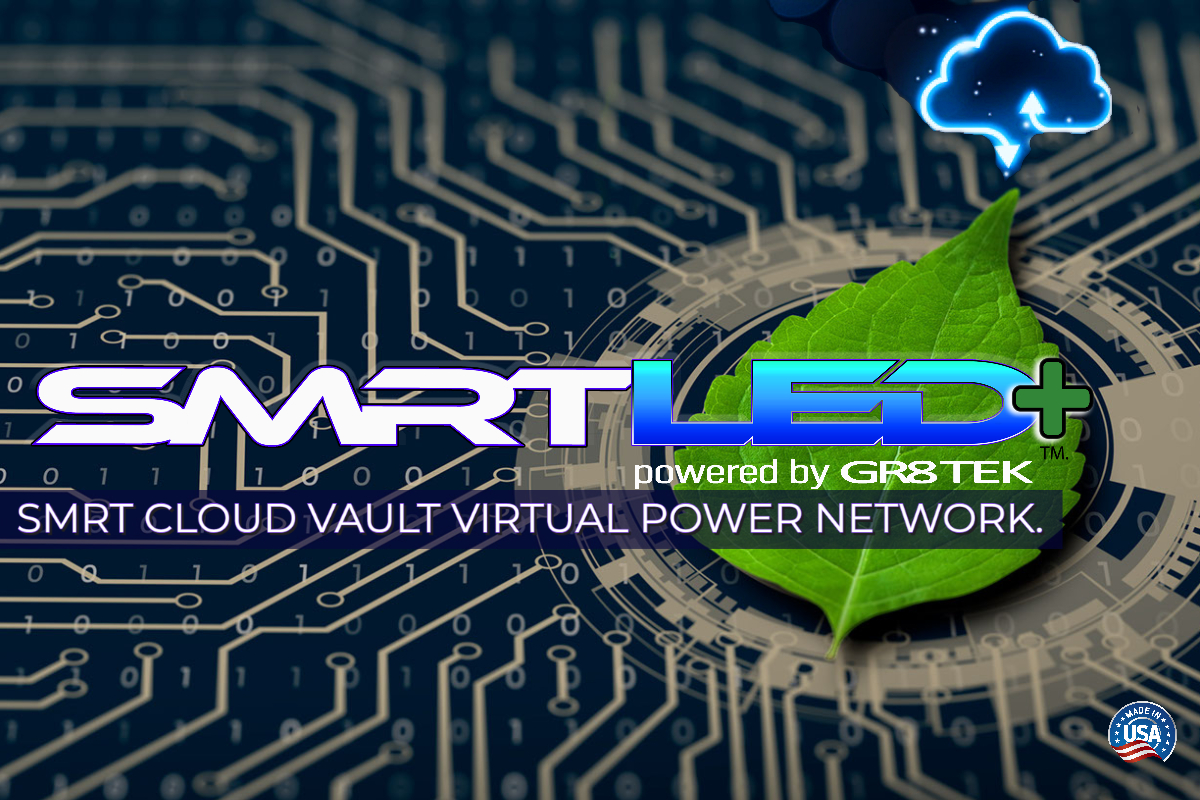 There are so many reasons why you should get an SMRT Cloud Vault for an office or building. First of all, how many times have you seen on the news about another iCloud hack? You will not have to worry about this if you had an SMRT Cloud Vault because you have your own business cloud in your facility. This will keep all your data safe from hackers.
Let's also talk about the fact that if the power goes out you will have power and even internet for up to 24 hours since all of our SMRT Cloud Vault comes with a powerful uninterruptible power source with our status indicator with color-coded led lights to show you if your backup power is low so you can get those last second phone charges up before you run out.
Continue to stream, download & upload: various media, computer backup, backup video surveillance, and documents. Operate your indoor farm undisturbed with AI learning power management on our low-voltage microgrid.
Now let's talk about off-peak growing automation! Now you will be able to run on battery backup growing cycles during peak hours and save yourself thousands of dollars on your utility bills. Our patented 14W 5000 Lumens X5P/XPE delivers the right amount of brightness without the heat and power consumption of ballast lighting. Zero carbon neutral grow lights. Grow without the guilt of wasteful power usage.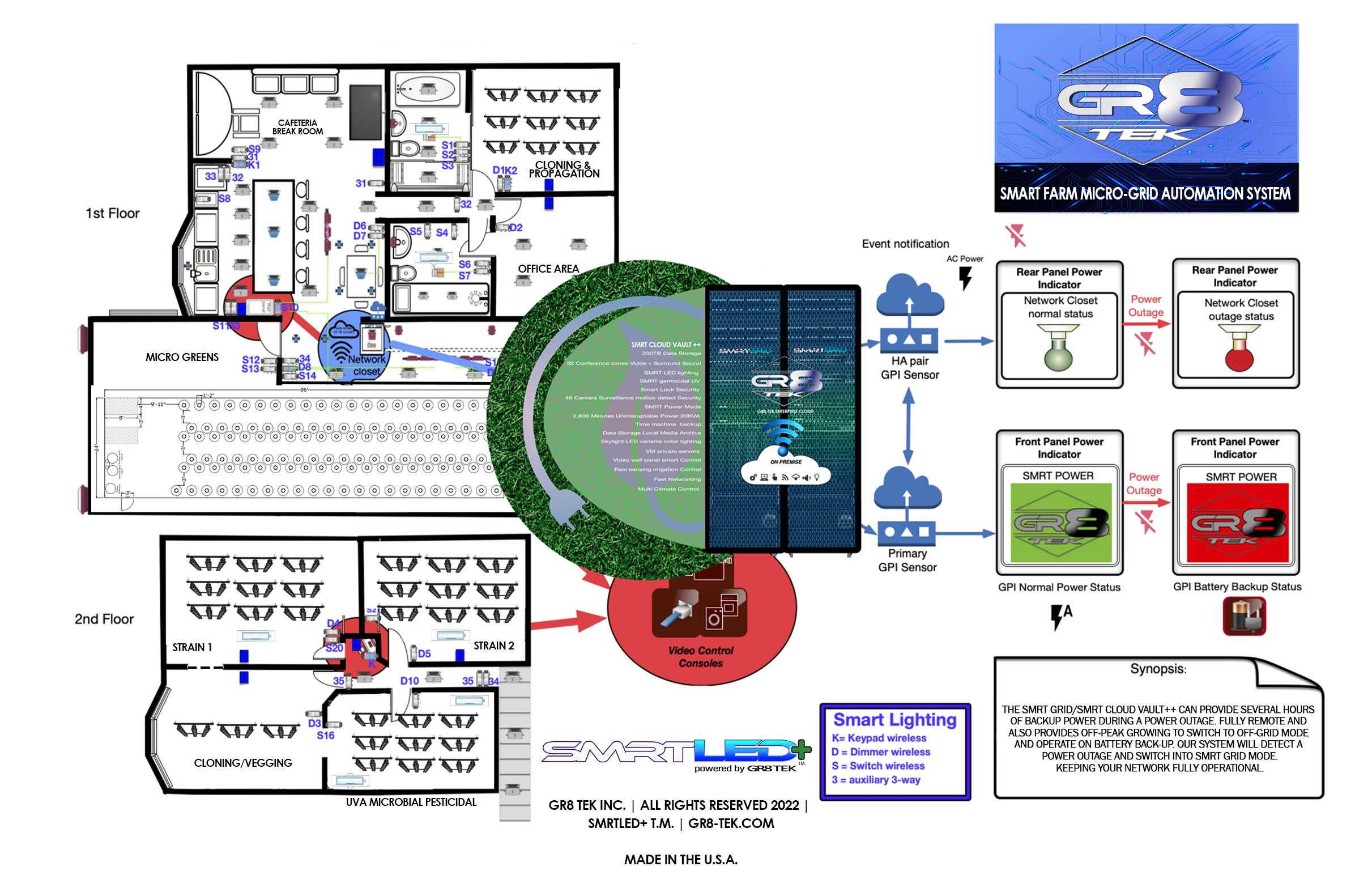 ---
Automation Control available on IOS, Android & PC.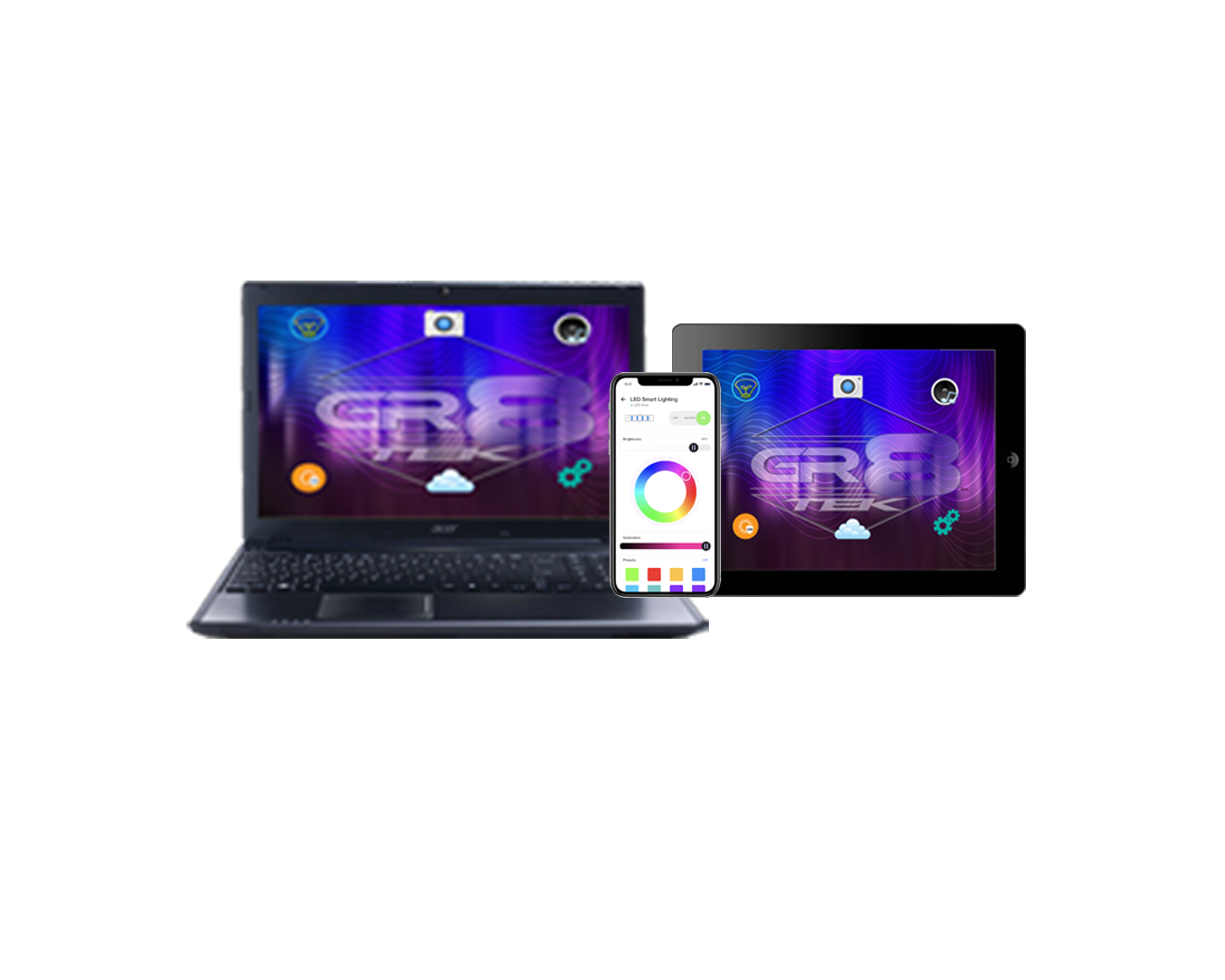 You have access to more power than just your local utility. An SMRT CLOUD VAULT System can reduce your carbon footprint and improve your ESG performance. It can also reduce the risk of future utility escalations, and ensure resiliency and consistency of supply that may not be available through your local grid.
An on-site alternative power source will be valuable if you need to upgrade your utility infrastructure at your facility, which may have longer lead times and construction durations. 
GR82624 – 1/2 rack
1-20 users 
Up to 24 hours back up power
Home theater surround sound & fast video streaming
32 TB redundant high availability backup cluster 
Smart lock security 
Smart lighting 
Surveillance motion-detect security 
Dual climate control
Time machine backup
Data storage local media archive
Skylight LED variable color lighting
Internet radio music streaming
Video wall panel smart control 
Plant hydration irrigation control
Fast networking
GR882400 – Full Rack
1-100 users 
Up to 24 hours back up power
Home theater surround sound & fast video streaming
50-100 TB redundant high availability backup cluster 
Smart lock security 
Smart lighting 
Surveillance motion-detect security 
Dual climate control
Time machine backup
Data storage local media archive
Skylight LED variable color lighting
Internet radio music streaming
Video wall panel smart control 
Plant hydration irrigation control
Fast networking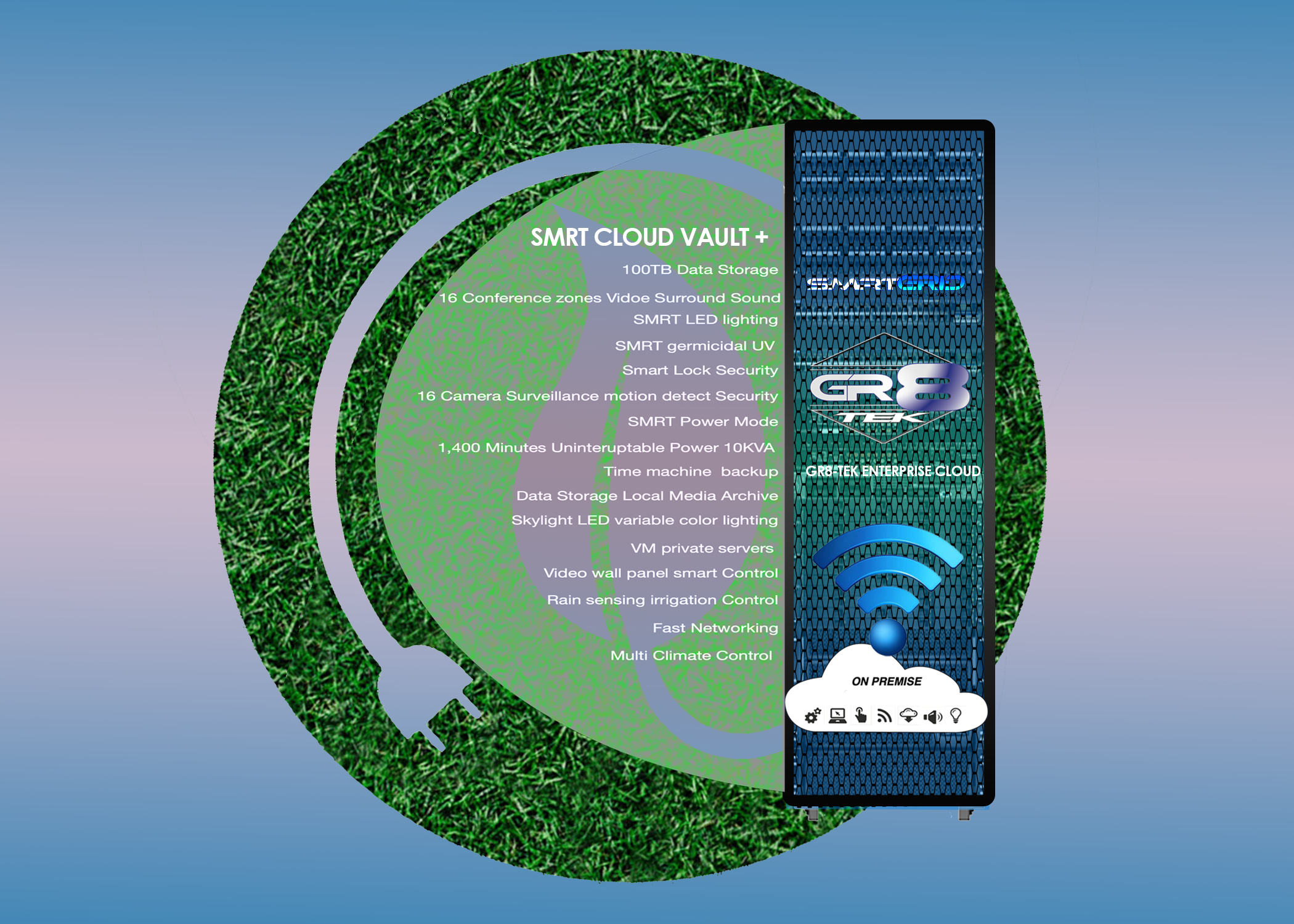 GR888500 – Double Rack
1-200 users 
Up to 24 hours back up power
Home theater surround sound & fast video streaming
150-200 TB redundant high availability backup cluster 
Smart lock security 
Smart lighting 
Surveillance motion-detect security 
Dual climate control
Time machine backup
Data storage local media archive
Skylight LED variable color lighting
Internet radio music streaming
Video wall panel smart control 
Plant hydration irrigation control
Fast networking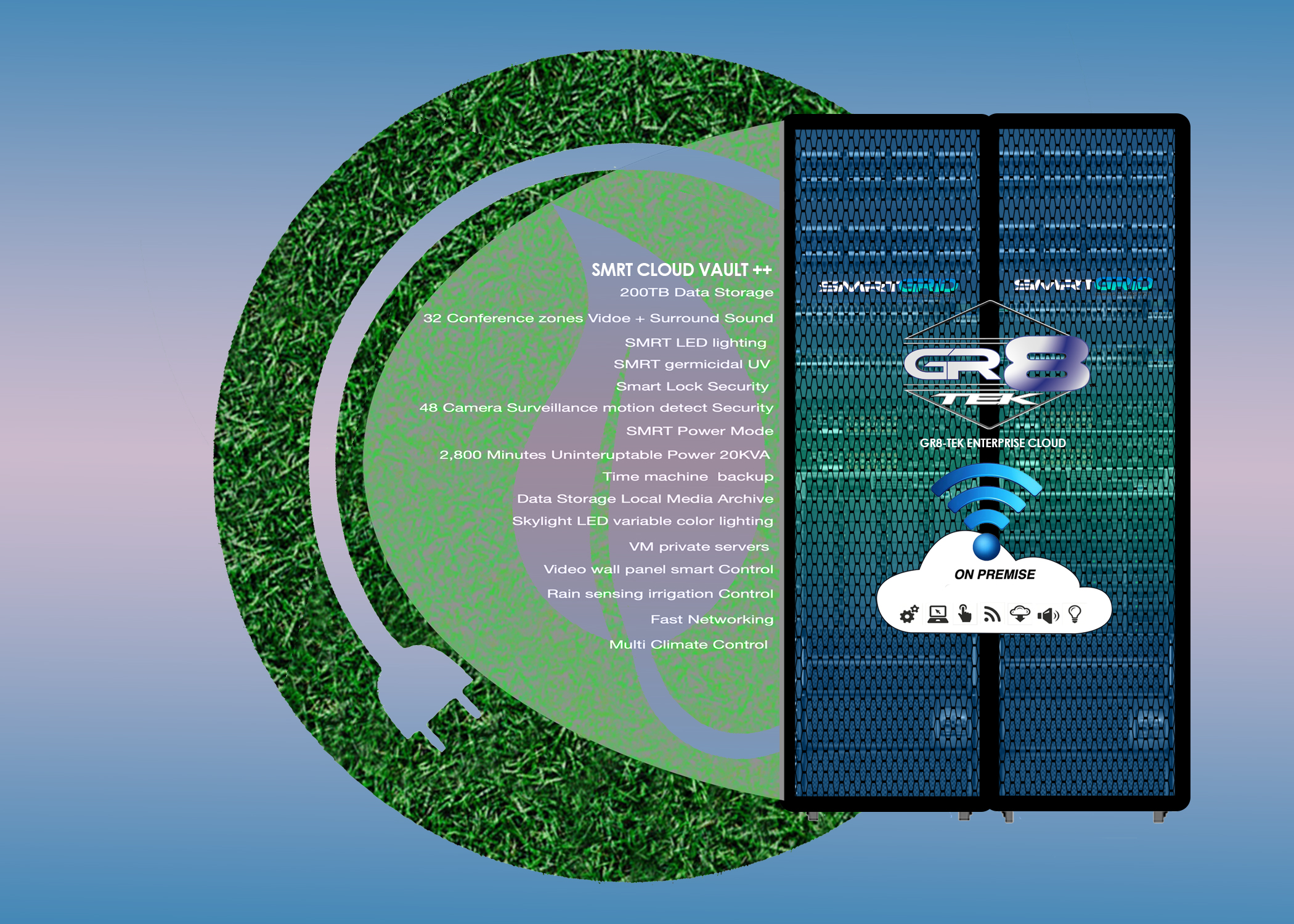 SMRT LED+ Indoor Lighting Automation Power System