---
Why Get a SMRT LED+ Indoor Grow Light?
Our goal is to provide our community with a more cost-effective and energy-efficient way of growing micro-greens and organics with our custom light intensity, direction, photoperiod, and spectral composition which play an essential role in the growth and phytochemical expression of all photosynthetic plants with our SMRT LED+ grow LEDs. Our SMRT LED+ X6 single strip of 41″ inches, only consumes 17W of power while producing 6,000 Lumens with a color temperature of 7,000 Kelvins generating 296PPFD and 15 PAR of light with app-controlled brightness, intensity, and full-spectrum color.
Indeed, our platform does more than the common building automation tasks, it helps to protect building occupants against germs with germicidal optical disinfection hit the news. Similar to many GR8 TEK proprietary IoT devices, motion sensors are built in so no additional motion hubs are needed as we pass the savings to our end users.
World's first SMART Ultraviolet LED Sanitizer: SMRT LED Ultraviolet Automated Germicidal Optical Disinfection. Our unique LED UV sanitization can be deactivated as you approach the device while it disinfects

virus mutations and variants from your

items placed under it.

GR8 TEK provides an affordable smart automation platform that anyone can easily install under a minute as a DIY.  It manufactures battery-operated low voltage award-winning all-American smart IoT devices for everyone's safety, comfort, and peace of mind.  Our low-voltage SMART LED system automatically switches between visible light and UV optical disinfection light based on motion.
Harnessing the power of the sun indoors while maximizing your yield and harvest. GR8 TEK provides a smart lighting platform, and smart IoT devices to increase the health and growth of plants with our SMRT LED.  Our smart low-voltage LED system automatically switches between visible light and UV grow LED lights and even provides optical disinfection and saves you thousands of dollars.
With the current global pandemic, everyone's highest priority is to have a reliable way to ensure clean and viable living conditions. Great Home Tek rose to the occasion of the current and future pandemic challenge by offering UV Optical disinfection SMRT LED system not only to industrial and professional medical customers but the majority of consumers an effective, safe, and non-chemical approach to the problem of battling harmful microscopic pathogens.
In order to address the fears and hygiene needs of the vast majority of the approximately 140 million households in the US, Canada, and Mexico.   We intend to focus on the residential customer or small offices who are also doing work from home and appreciate our portable UV Modules that can sanitize their laptop, cell phones, keys, and personal items in order to provide germ-free living spaces, workspaces, with economical, effective and easy to install germicidal solution.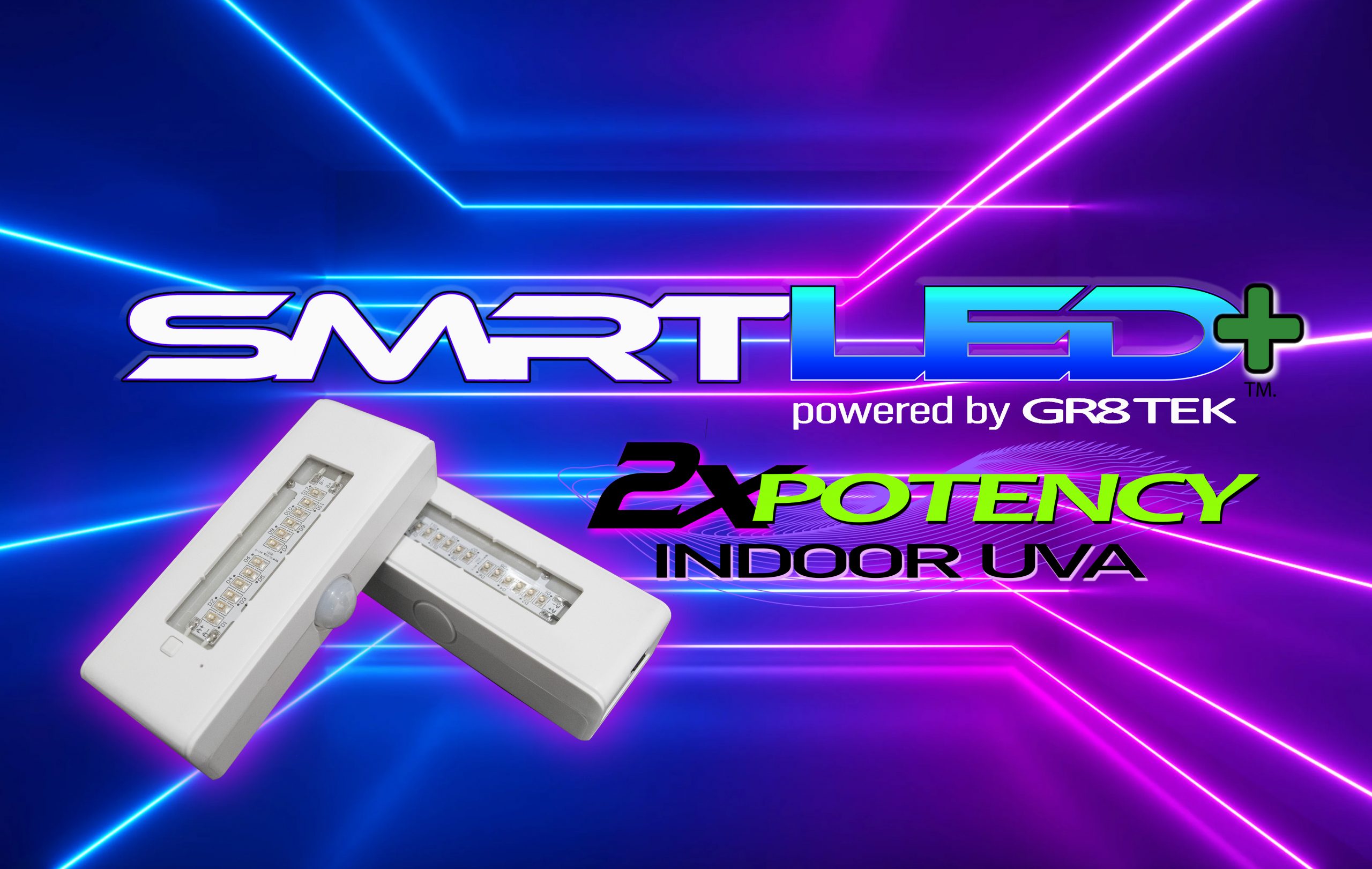 As popular as hemp & cannabis cultivation has been, It's not very popular with energy consumption.
What's the average yield per plant? Hemp/Cannabis: average 10-25 oz, 5 x 5 x 8 ft. (1.5-2.25lbs) 1000w – 4×4 space, 1 plant per sq ft.
What does that mean? With a 1000w and 8-12 plants per sq ft, don't expect over .5 grams per watt.
With demands growing, running a 1000w HPS grows light, with about 1,050 watts of actual power draw for 12 hours a day will consume 4,600-5000 kilowatt-hours (kWh) a year. $100-$200 per month per unit.
1000W bulb average: $200 – $1000 1000w ballast average: $500-$1000.
Not so efficient is it?
Now imagine if you can cut your energy usage by 50%.
WHILE DOUBLING YOUR HARVEST & YIELD REVENUE.  Imagine a light that provides nutrients.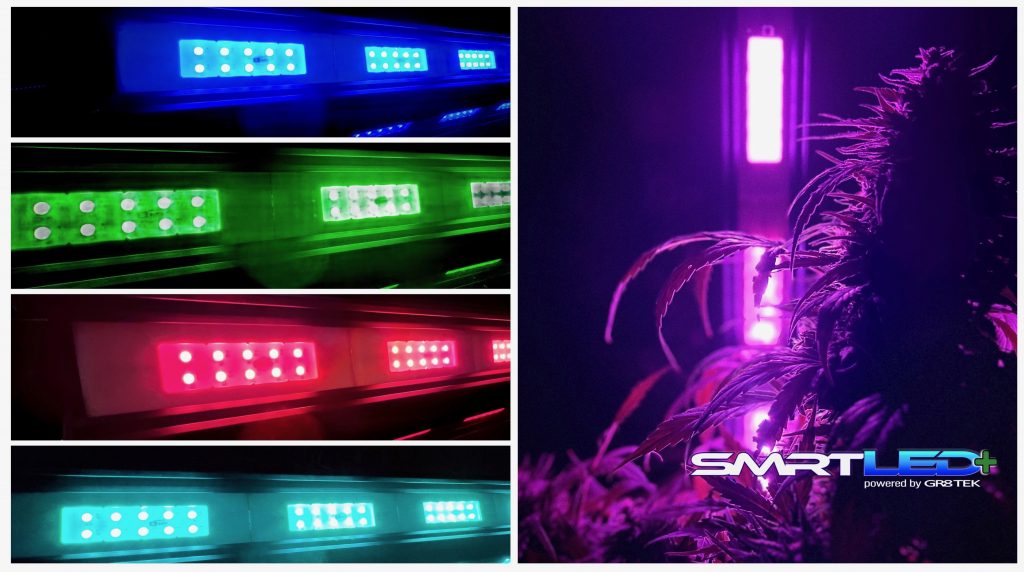 ---
SMRT LED+ System Features
Our smart LED system has some really amazing features.  One of the coolest things about it is the fact that it has a 360-degree motion sensor, so no matter what direction you are coming from it will turn on for you. Obviously, the regular light is the most practical of the settings but it is really cool to be able to change to a bunch of different colors. All the colors are really nice when you are entertaining. The best part about this product is the fact that you can extend your lights as long as you want.  When it comes to making 90-degree turns, our flexible magnetic connectors are awesome and so easy to install as they snap into the SMRT LED+ module. All you have to do is install the tracks where ever you want to save power by switching to our 5v battery-operated motion detect light and you can extend it as long as you want as it snaps together and grows.
There are so many places you can put these lights but personally one of my favorite places is underneath the cabinets in your kitchen. It gives you the perfect light you need to get the cooking done, and you won't be wasting your power and money because when you are not using them they will turn off all by themselves. Another really good spot is going down your stairs. It is really dangerous to walk down the stairs in the dark so having some motion sense LED lights for that is pretty nice.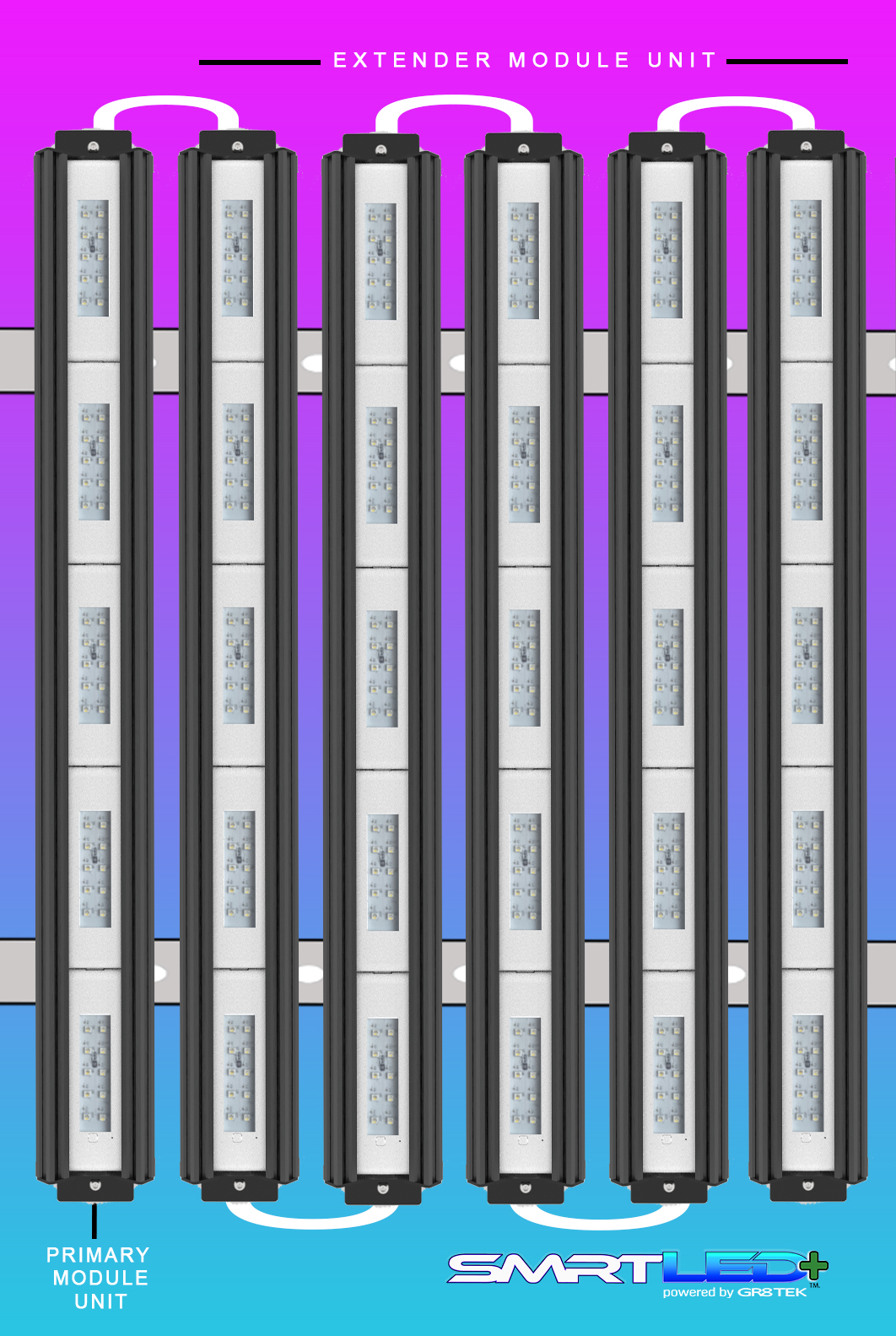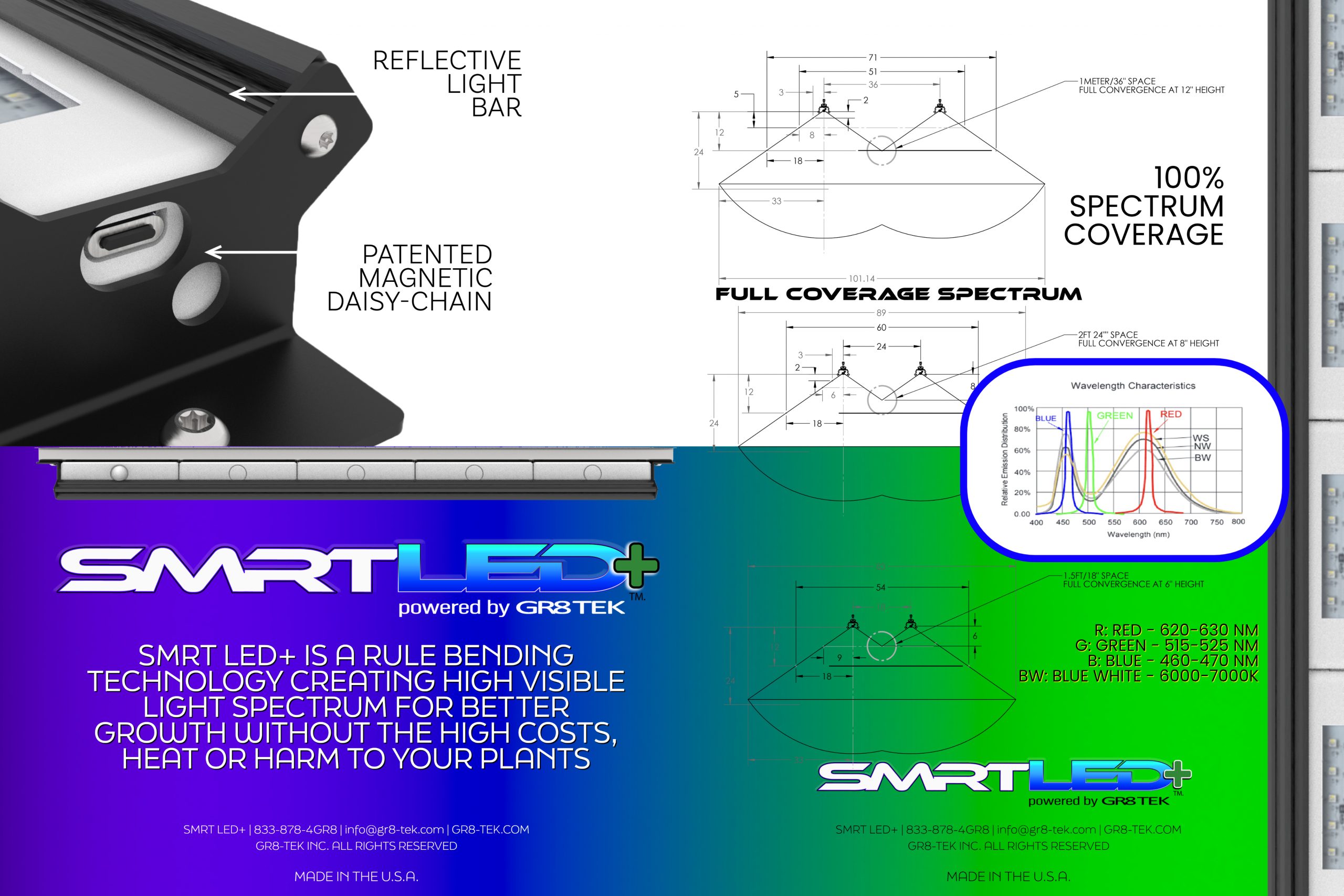 When it comes to designing a new model or doing a major renovation to improve your indoor farm, lighting is always one of the most essential aspects of the design. The form factor of the lights and the location of the lights determine what you can really accomplish to enhance the living space. The SMRT LED+ motion sensors are ideal for places where normal light bulbs, cans, or fixtures won't fit, rather utilizing SMRT LED+ can save the day and completely transform a space into an exotic gorgeous living space where you can switch lighting colors or brightness.
SMRT LED+ multi-color along with the snapping technology both to the aluminum rails as well as to each LED extender unit gives the average farmer the ultimate flexibility.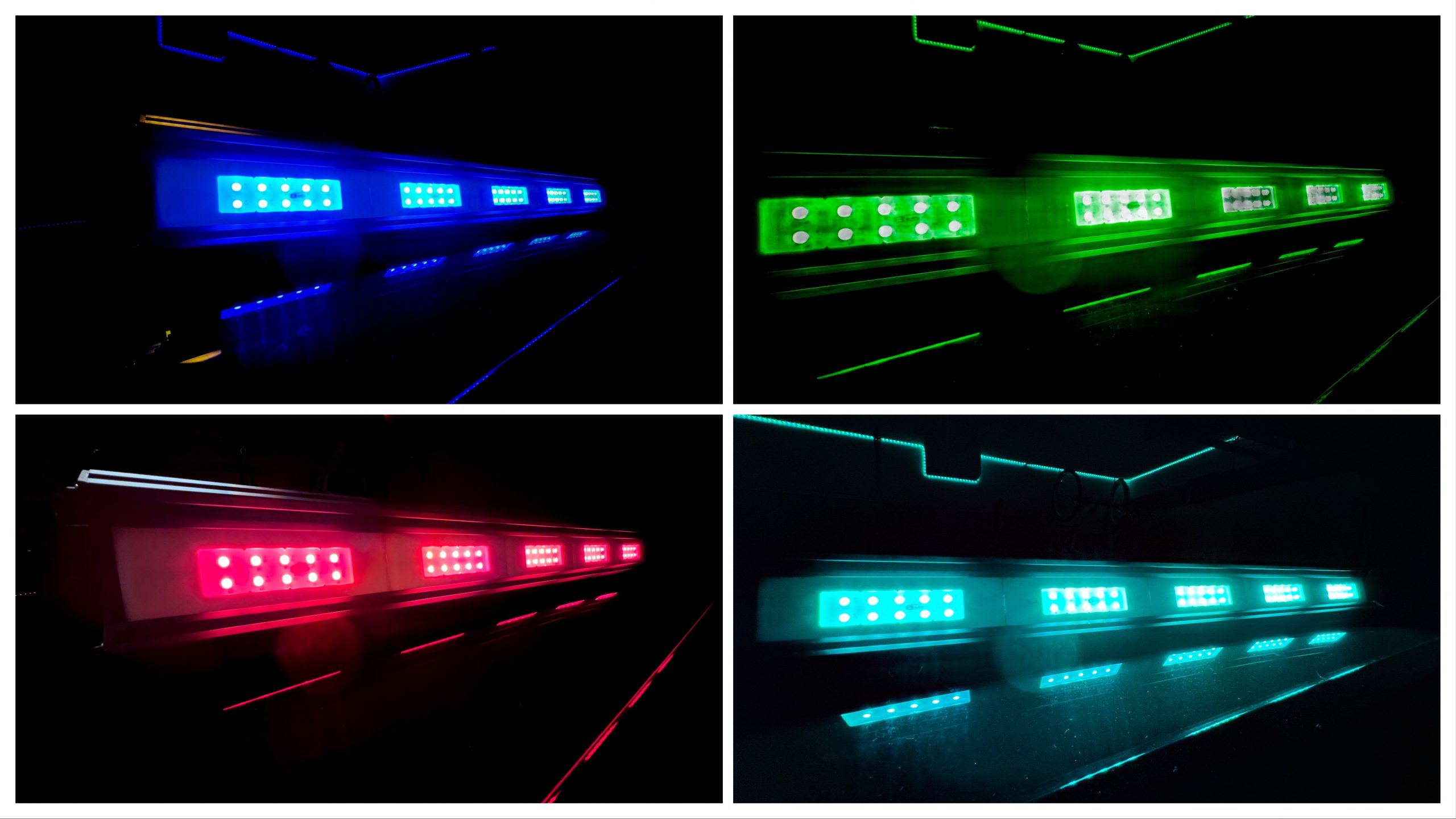 Our dual forward-facing long-range motion detects lights have decoupled the switch from the light, as you approach the light it turns on.  Once they're turned on, they will remain on until there is no further motion detected and they automatically turn off. Rather than having motion detectors positioned within the same plane as the LEDs, which may lead to difficulty in detecting motion from any meaningful distance and one would have to literally swing their arms under the light before it detects motion, our motion sensors are forward facing toward the user.  Our motion detectors are more effective as they're positioned perpendicularly to the LEDs, as most lights are facing either downwards or upwards depending on the users' use case which cannot detect users approaching, our dual forward-facing motion sensors are facing toward an approaching user and can detect motion from 15′ to 20′ away from any direction as we have a 360-degree field of view.
Our SMRT LED+ X5P & X5E can easily change colors to emit RED or BLUE thereby providing a lighting environment most conducive to a particular preference of the user based on the best spectrum for your specific plant. Change the color of your LEDs anytime from anywhere.
Most of you are probably thinking that there are tons of similar products on the market already. Why should we use GR8-TEK? We have many features that set us apart from the rest but the biggest is the fact that our lighting system is expandable to as long as you want. Most companies have a limit to how far you can expand before having to buy an entirely new main unit. With us, you can extend as long as you want saving you tons of money.
All you need is the extender module pack, for variable lengths 6″ at a time and you can grow your LED strip lighting as your needs change, they can also be easily relocated as they just snap off the metal rail and can snap onto another metal surface, so they can be moved or relocated to where you need lighting.  Most lighting systems are turned on by a switch.  As a result, occupants are often left wondering about their home, in the dark, looking for the switch to turn on the lighting system and the elderly must face potential safety hazards until they find the switch.
Certain individuals, such as the elderly or assisted living may be dealing with arthritis or difficulty with motor functions that render walking to a light switch and flipping it quite difficult, we have solved that problem.